Chicago is "Tidying Up" With Marie Kondo
MON JAN 14, 2019 | ABOUT 4 HOURS AGO | POSTED IN: CELEBRITY ODD NEWS | SOURCE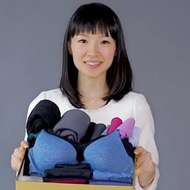 It's a good time to turn into a hoarder: Marie Kondo is sweeping the closets and junk drawers of newfound neat-freaks nationwide, and the contents of newly tidied spaces are turning into something of a boon for thrift stores and consignment shops.
Since the tidying guru's Netflex series, Tidying Up With Marie Kondo, debuted on Jan. 1, converts are taking her message of simplifying to heart. (For the un-Kondoized masses, her method involves picking up each of your possessions and asking yourself whether it sparks joy. If not, thank it for its service and send it on its way.)
Quantifying the impact of Kondo's show is tricky, but CNN cites one telling stat: On Dec. 31, before her show's debut, Kondo's Instagram account had 710,000 followers. As of Sunday morning, it was 1.3 million.
There's anecdotal evidence of spikes in donations, including pictures of long lines of would-be donors, but the Washington Post reports that DC-area Goodwill locations said donations the first week of January are up 66% over last year, while one in Gaithersburg, Md., reported a 372% jump.
"It makes perfect sense," one auction house rep tells the Post, "since (people) have time to spare during the shutdown, as well as to bring in a little income."
A Chicago used-book store owner tells CNN he got a month's worth of books last week. "We've been in this location for four years, and people would walk up and down the street, and never noticed us before," he says. "I think a lot of people are now beginning to know us."