I Hate This Picture And Urlacher Is The One Suing
So when I worked at the other radio station, we saw Brian Urlacher in the hallway and convinced him to pop in for an interview. He had hair! I immediately said "May I touch your new hair?" He laughed and agreed. Did I mention there was a film crew with him?
I'm in his TV commercial and I my hair looks like crap, no makeup on and clothes I would never wear on TV! Hundreds of people have asked me about it. It's frustrating because it's an implied endorsement.
I find it ironic that he is suing a company that is doing the same thing to him. Don't get me wrong, I love Brian. and he probably has no idea about any of this but the company he endorses does.
Maybe I need his legal team.
Brian is you're reading this, please ask them to take me out of the commercial or offer up some compensation.
-Lisa
FRI MAR 08, 2019 | ABOUT 4 HOURS AGO | POSTED IN: SPORTS STUFF| SOURCE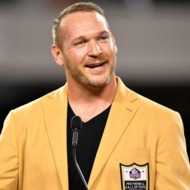 Former Chicago Bears middle linebacker Brian Urlacher is accusing a hair restoration company of using his image without his permission to sell their product and is demanding a judge step in to stop them.
According to court documents obtained by The Blast, Urlacher has filed a lawsuit against the Florida-based Charles Medical Group, NKP Medical Marketing and Glenn M. Charles.
Urlacher explains that in 2014, out of the thousands of hair rejuvenation, replacement or restoration companies, he chose to work with Restoration Holdings, a company he deemed "deserving" of his endorsement.
He explains, "For more than a decade, Urlacher and his team of advisors have carefully vetted the companies and products with whom Urlacher associates his name and likeness, and in 2014 they chose Restoration Holdings, LLC and entered into a lucrative contract with the company to serve as its celebrity endorser and spokesman. Not only did Urlacher serve as RHL's spokesman, he became a client when he himself underwent a restoration procedure."
The former NFL star says they hired him for his extraordinary value that attaches to his name and likeness and says, "Not surprisingly, Defendants have attempted illegally to steal and cash in on Urlacher's name and this success."
Back in 2016, Urlacher says a competitor to the hair company he endorsed, Charles Medical Group, began running advertisements and marketing its competing products and services using his name and likeness "in order to falsely attract and intercept customers looking for the company endorsed by Urlacher."
Brian Urlacher says he never authorized this and is demanding damages in excess of $100,000, plus punitive damages along with an injunction against the defendants prohibiting them from using his face or name.
The NFL legend filed a similar lawsuit against Charles and his company in Illinois court back in 2017. This new case was filed in Florida and added the marketing company as a defendant.