How to Attend a Wedding Without Going Broke
FRI MAR 08, 2019 | 3 DAYS AGO | POSTED IN: WEDDINGS| SOURCE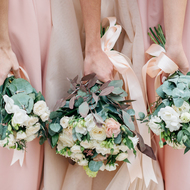 Get this: The average guest spends $592 per wedding, according to American Express. (That doesn't even include the emotional or timely expense that comes with being a bridesmaid or maid of honor.) Weddings are flat-out expensive, so you're not alone in wishing that your friend's public display of commitment was a little, well, more affordable. If you can't simply can't afford to shell out a ton of cash on a lavish outfit, wedding gift, or bachelorette trip, join the club. Learn how to get through wedding season sans bankruptcy with these money-saving tips from pros.
1. How to Save Money On: The Wedding Shower
Abby Larson, the founder and editor of the wedding blog Style Me Pretty, suggests "scouring a flea market for gorgeous vintage barware that any to-be-wed would love. Think ice buckets, Champagne coupes, trays, and cocktail shakers." Etsy and other online marketplaces can also be great, affordable resources for unique, personalized pottery and other serving pieces.
2. How to Save Money On: The Engagement Party
Consider a stock-the-bar gathering, where guests bring their favorite liquor or beverage that can be enjoyed by guests at the party and by the couple thereafter. Or throw a fancy potluck. "Guests bring their favorite dish and a handwritten recipe card that is tucked into a pretty box and gifted to the couple," says Larson. There's no need to spend more than $20 or so, says Kellee Khalil, the CEO and founder of Lover.lythis link opens in a new tab, a wedding-inspiration website.
3. How to Save Money On: The Bachelorette Party
Ask each guest to contribute, say, $50, then "pool it to buy some fun party decor and a seriously wow-worthy lingerie gift for the guest of honor," says Larson. Increase the fun factor by having everyone bring a bottle of bubbly or their wine of choice.
4. How to Save Money On: The Wedding Gift
While the average wedding gift costs between $75 and $150, according to data from TheKnot.com, nothing says that you need to give cash or even a gift that expensive. Khalil suggests "buying something small but special, like a vintage map of the couple's hometown or a locally made serving tray." Or if you have a particular skill, offer to help with the wedding (like putting together gift bags for the hotel rooms of out-of-town guests). You can also give cash if that's customary with your crowd. But include a personal note with a suggestion for how they could use the cash (couples' massage on their honeymoon). 
5. How to Save Money On: The Wedding Attire
If you're in the wedding party, ask the bride if you can do your own hair and makeup. The day-of glam-fest is often seen as a bonding event for the bride and her maids, but it can be stressful if you have to pay for it (on top of the dress, the shoes, and so on). "Consider presenting the bride with a few options: You could find your own stylists who are less expensive, you could do your own, or she could help cover the cost. She'll appreciate having a say in whatever alternative you end up with," says Khalil.