The 7 Year Old Anthem Singer That Is Blowing Everyone Away!
MON MAR 18, 2019 | ABOUT 4 HOURS AGO | POSTED IN: NASCAR & F1| SOURCE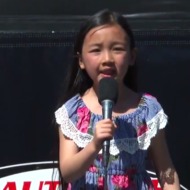 It's hard to believe that this powerful and captivating voice is capable of coming out of such a tiny child, but it's part of the reason 7-year-old singer Malea Emma Tjandrawidjaja continues to stun fans at sporting events.
She first went viralback in September when she won an online contest and was picked to sing the anthem for at a Los Angeles Galaxy game, and a couple months later, she was invited to return to MLS toperform at the MLS Cup gamebetween Atlanta United and the Portland Timbers.
Her latest performance was Saturday at Auto Club Speedway in California ahead of the NASCAR XFINITY Series' Production Alliance Group 300.

FOX: NASCAR✔@NASCARONFOX