Carrie Underwood Pumping In The ACM Dressing Room #MomLife
MON APR 08, 2019 | ABOUT 4 HOURS AGO | POSTED IN: ACADEMY OF COUNTRY MUSIC AWARDS| SOURCE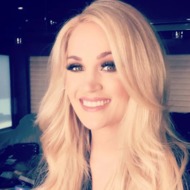 Carrie Underwood's got this whole mom-of-two thing in the (breast-milk) bag.
Ahead of her performance at the 2019 Academy of Country Music Awards on Sunday, the country singer shared a glam selfie to Instagram that showed her dolled-up in full makeup and hair styling, flashing a huge smile as she prepared to take the stage.
One accessory not visible to the naked eye? A breast pump, which Underwood — who welcomed her second child, son Jacob Bryan, on Jan. 23 — revealed in the caption that she was using as she got ready.
"Getting ready for my performance … also pumping. 😬😂🤷‍♀️," she wrote alongside the picture, tacking on the hashtags, "#Multitasking," "#ACMAwards," "#Southbound" and "#LetsDoThis."