Miranda Rocks The Red Carpet And The ACM Awards!
Miranda Lambert proved she deserved everyone of the 32 ACM Awards that she's won.
Her performance of a mashup of her hits captivated everyone.
She even changed up the lyrics of "Little Red Wagon" to include "I got the hell out of Oklahoma" an obvious reference to her divorce from Blake Shelton.
She followed up that performance by joining George Strait on stage for a duet with the King of Country.
It was her night!
-Lisa
MON APR 08, 2019 | ABOUT 3 HOURS AGO | POSTED IN: ACADEMY OF COUNTRY MUSIC AWARDS| SOURCE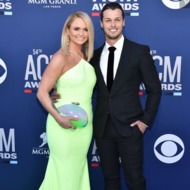 Newlyweds Miranda Lambert and Brendan McLoughlin have made their relationship red carpet official.
The "Tin Man" singer, 35, and the NYPD officer, 27, walked the carpet together at the 2019 ACM Awards in Las Vegas on Sunday night.
Lambert stunned in a form-fitting lime green gown and stuck close to McLoughlin who wore a classic tailored black suit and tie.