Chris Stapleton's Wife Gives Birth On Mother's Day!
MON MAY 13, 2019 | ABOUT 3 HOURS AGO | POSTED IN: TOP COUNTRY NEWS| SOURCE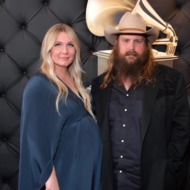 Chris Stapleton is a father of five!
The country singer-songwriter, 41, and his wife Morgane have welcomed their fifth child, she announced on Instagram Sunday.
"The most perfect Mother's day… I wish all you Mama's the happiest of days today!" she captioned her post.
Morgane did not reveal the name or sex of the baby but did share a sweet photo of the newborn's arm in a mustard-and-white striped outfit.
The couple, who wed in 2007, are also parents to three sons (includingtwin boys they welcomed inApril 2018) and one daughter, but have chosen not to publicly reveal their names.